Seagulls Feeding in the river corrib that runs through galway city in Ireland. A group of seagulls bob up and down on the churning deep blue water of the river Corrib. Some hover while others float in the water.
Trees bathed in a patch of light as they grow on the side of the mountain. Glendalough National Park, Co. Wicklow, Ireland
White Butterfly on a Thistle
A white moth or Butterfly feeds on the pollen from a thistle with its purple flower. The beautiful white wings of the insect contrast strongly with the green background of the out of focus landscape behind it
Seagulls soaring in the light of the low winter sun. A Seagull flys high in the sky, with it's feathers and wings illuminated from behind by the golden light of the evening sunshine
Soring Seagull against Blue Sky
A Seagull flies high in against the backdrop of a deep blue sky as it's eye scans the seascape below. In the bright mid day sunshine the white feather of this flying seagull contrast with the deep blue sky behind it.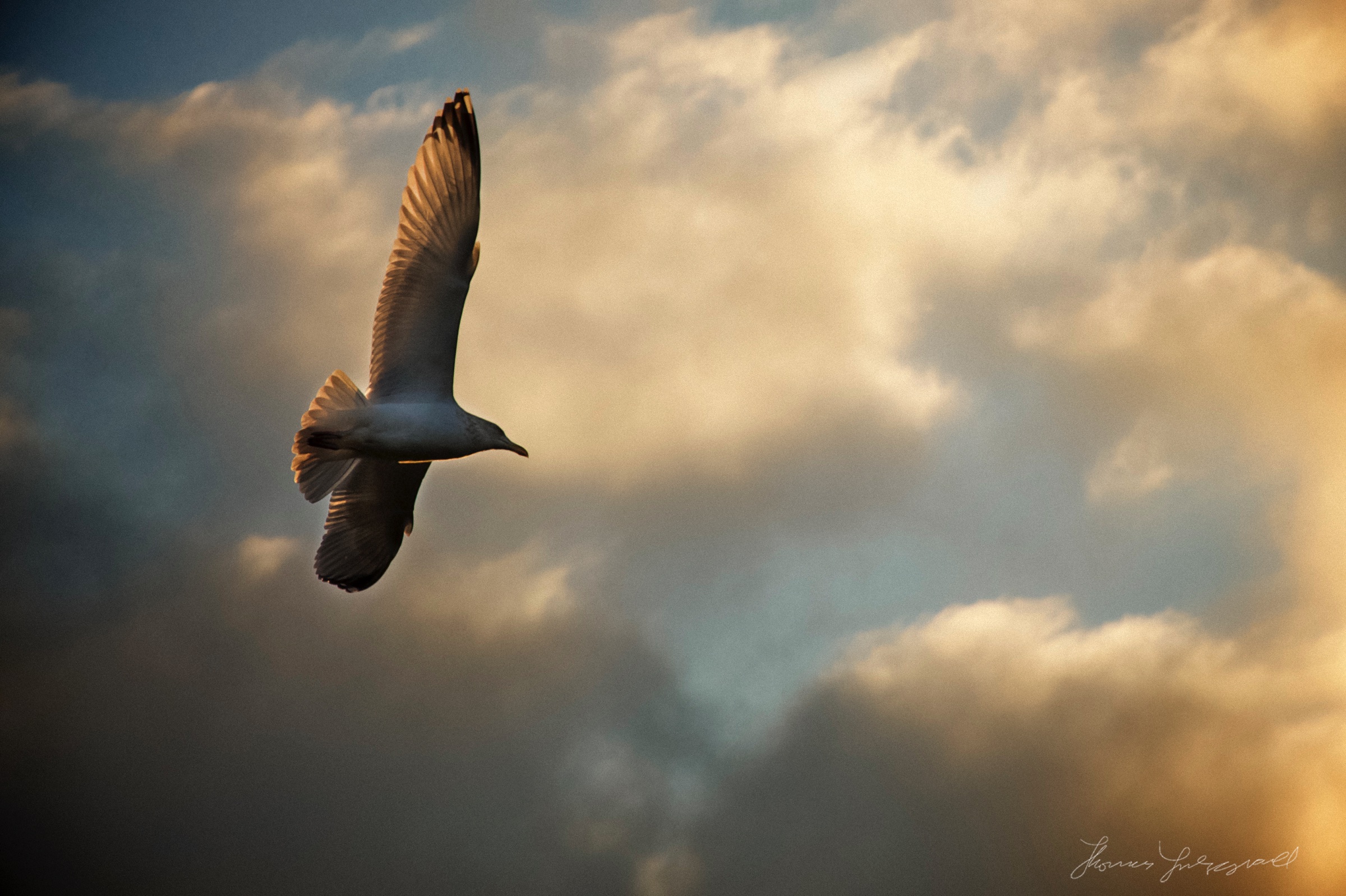 A lone red flower stands anomst its peers dripping with the fresh moisture of a recent rain shower. Against a backdrop of out of focus flowers and green stems, a young tulip bud, covered in dew stands tall in the soft light of a cloudy day following a rain shower
Close up images of lavender with a narrow depth of field and lots of bokeh
A Stag stands under the branches of a Tree in Dublinís Phoenix Park
Deer and Fawn in the Grass
A deer and a deer fawn stand under the branches of a Tree in Dublinís Phoenix Park
A red fallen leaf lands on a green grassy backdrop. The shape and colours of the fallen autumn leaf resemble a set of red lips on the green grass backdrop
Seagulls Fighting Over Food
Stephen's Green, Dublin, Ireland: A flock of Seagulls fight over the scraps of bread that were fed to them in the small lake in the centre of the park
Sunset over the lake in Stephen's Green
Dublin. Ireland: The Warm glow of the setting sun illuminates the foliage and glistens on the watewr in the lake at the centre of this Dublin City Park
Sun sets through the trees beside a stream in this rocky mountain landscape
Wicklow Mountains Valley And Clouds
A Bank of rolling clouds hovers over a disant valley high in the picteresque mountains of Co. Wicklow valley high in the picteresque mountains of Co. Wicklow as the beams of light from the sun highlight a small farm house in the foreground
A Magpie flies from it's perch in a pear orchard
The streams of water flowing over the golden brown rocks has been frozen in time
A Copper Coloured Stream flows among the rocks in this mountain river, high in the mountains of Co. Wicklow, Ireland
Fluffy white clouds hang in the sikes over the waters and rocks in the bay off the coast of Galway, in the West of Ireland
Forest River In the Wicklow Mountains
A river flows over rocks in this mountain forest stream in the mountain park around the Powerscourt Waterfall in the Wicklow Mountains
Duck Splashing Around in Water
A duck splashes in water as it lands in the rippling dark waters of a lake. The water of the lake is a dark green and brown and the duck is frozen mid action as it splashes on the lake's water surface, with droplets of water flying in the air
Golden Light in The Trees
Golden Light falls on the trunks of trees in a thick forest as the evening light creates a golden hue on this wooded area
A pair of swans form a heart shape with their knecks as they swim in the waters of this lake in a Dublin Park